Every year before Christmas you end up looking at your greeting cards with the same confused expression. You want to share your love and appreciation with your friends and family, but the words won't come out! And when you finally come up with the perfect Christmas wishes, it is too long to fit in your card.
Well, You do not need to worry about having a case of writer's block when writing Christmas messages for your family, parents, friends, or lovers this year. You can write your holiday wishes more easily with these simple yet thoughtful ideas.
Christmas Whishes & Messages:
Christmas Wishes for Friends
Here are some thoughtful Christmas wishes and messages that your friends will appreciate:
1. Do you remember listening to Christmas songs late at night because we are very excited about the holiday vibe? Doing this will not be the same if we do not do it together. I wish you all the best! Merry Christmas!
2. Hey there, friend! I just want to say how blessed I am to have you in my life. Because of your presence, I feel extra happy every year. I wish you and your family a Merry Christmas. I hope we see each other again soon. May the beauty of Christmas fill your spirit.
3. Most of the best memories I have are the ones we shared. I hope you will have much happiness not only this season but every day of your life. Thank you for always being there. I wish you a new year full of joy and peace!
4. You are more of a sibling to me than a friend. I'm grateful to have a friend as amazing as you. You deserve all the happiness. Merry Christmas!
5. The holidays are meant to express to people I love how significant they are. That's why I'm writing this message to tell you how much I love you. Thank you for being a wonderful friend to me. Enjoy the holiday season!
6. I know that there could be times that I seem to take our friendship for granted. I want you to know how much I appreciate your support. I hope I can be as good as you are as a friend. May the magic of Christmas bring a bright smile to your face. Happy holidays!
7. With you as my friend, every day feels like Christmas. The spirit and comfort of the holiday reminded me of how we spent Christmas when we were young. I hope our families can meet soon. I miss you, and Merry Christmas, my friend!
Christmas Wishes for Family
Share the Christmas spirit with your family through these messages:
1. One of the best blessings in my life is being a part of this beautiful family. I feel the happiest when I spend the holidays surrounded by all of you. You are the best person and gift in my life. Yuletide Greetings!
2. Christmas is the perfect time to reconnect with loved ones. I know we have our ups and downs, but I'm happy we find our ways to sort them out. Blood is indeed thicker than water. Happy holidays, everyone!
3. Each family is different. Ours is a crazy but supportive one. I couldn't ask anything better than that. I love each of you so dearly. I hope this Christmas will be your happiest ever.
4. Spending Christmas with your family has a special kind of magic. You make the holiday extra special. May this coming year be fantastic for all of us, and I always pray for our good health. Merry Christmas!
Holly Jolly Christmas
Coloring Books for kids & Adults
5. The happiness I feel when I'm with you is immeasurable. I hope we will all be blessed with the best feeling of happiness and love. Let's make this season special and unforgettable. I love you all! Happiest holidays from our family!
6. For me, Christmas is the best season of the year. Gifts and vacation from work are partly the reason, but spending with you is what makes it truly the best. I wish everyone happiness and looking forward to seeing everyone again. I hope everyone's holiday season is full of love, togetherness, and warmth!
7. The most comforting feeling for me is waking up in the house where I grew up. Spending Christmas there with all of you is one of my treasured memories. I miss everyone so much! I wish you all a very merry Christmas.
8. I can't wait to come home and see my crazy but wonderful family this Christmas. You know how much I love all of you, and I wish you all the happiness and blessings you deserve and more. Let's celebrate the jolliest Christmas ever!
9. I can't think of the best Christmas I had because every year is the best. I'm very thankful to be able to spend it every year with all of you. May our family always be blessed. Cheers to a year of positive vibes and good energy!
Christmas Wishes for Parents
Let your parents feel extra special during Christmas with these words:
1. Mom and dad, I can't imagine celebrating Christmas without you. You gave me life, so I'm able to enjoy the life I have now. I love you both so much. I hope this season will bring us more understanding, care, and love. Merry Christmas!
2. Happy holidays to the best people in the world! I can say that you've raised me wonderfully. I'm beyond grateful to you both for doing that. I hope I can raise my kids the same way you did. You deserve nothing but the best. I love you! Warmest holiday wishes!
3. I'm very blessed to have you as my parents. Thank you so much for giving me the best life and helping me all the time. I hope that all your prayers will be granted. I love you so much.
4. I can finally spend the holiday season with the best parents! I know we'll have the best time this Christmas because we always do. Merry Christmas! I hope all your worries will be gone. I love you, mom, and dad.
5. How I wish every child in the world will have wonderful parents like you. You are the best, and I can't say how thankful I am for having you as my parents. Thank you for all the love you give to my family and to me. Can't wait to see you!
6. Our Christmas decorations, food, and gifts make our celebration special and cozy. I wish our family to always be sweet and cozy. No matter what happens, please always remember that I love you both so much. Merry Christmas!
7. Hi, mom and dad! I'm so excited to be with you. I hope we will have a blast together this Christmas like we always do. I can't wait to see you! I love you!
Free Christmas
Greeting Cards
Bundle
Free 5X7″ Christmas cards bundle to download and print or send VIA social media.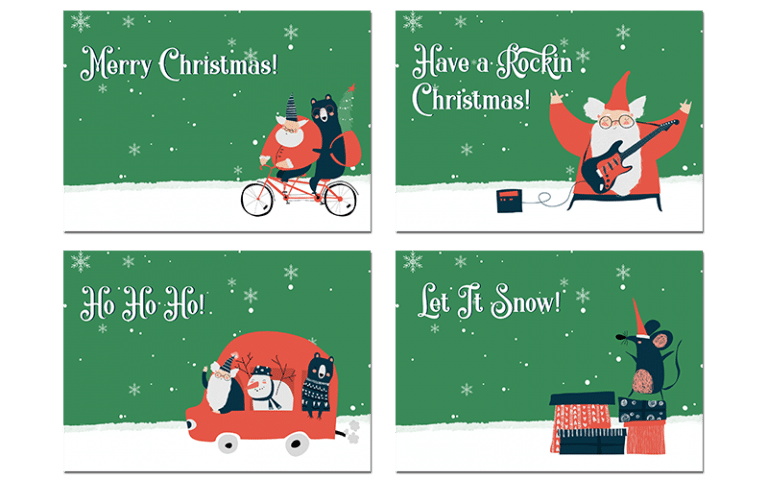 Christmas Wishes for Lovers
Here are some heartfelt messages that will convey your love to your sweethearts:
1. I want to spend all Christmases with you. Your presence by my side makes it more special and warmer. I can't imagine the holidays without you. I hope your life will be filled with so much happiness and love! Happy Holidays!
2. Magic is real because I met someone as amazing as you. You've made miracles happen even in the simplest ways. I believe you can achieve your dreams in the coming year. Always remember I'm here for you. I love you! I wish you and your family a wonderful Christmas!
3. I feel blessed when I spend holidays with you, especially during Christmas. When we sit together in front of the fire while the kids are asleep, it makes me appreciate the holiday more. I hope you will always stay the same! Merry Christmas, hon!
4. I won't forget this Christmas because I will be with the most handsome and loving man I know this season. I hope all your wishes are granted. Warmest wishes, my love!
5. Every time I spend Christmas with you, it's like a fresh start. I hope our relationship becomes stronger in the upcoming year. I can't wait to experience new adventures with you. Happy holidays, baby!
6. You are a miracle. I can't imagine what Christmas would be like without you. Thank you for being a wonderful partner and best friend! I'm looking forward to another crazy and fun year with you. Merry Christmas!
7. Loving you is the most effortless thing I've done. You're the best, and I hope I let you feel that. Thank you for coming into my life. I wish you all the best this Christmas! I love you so much!
 Finally, we hope these Christmas messages can help you express how much you appreciate the special people in your life. Your greeting card message can be short and straightforward as long as it is sincere.
The holiday season is here with us, and everyone is getting ready to send and receive gifts. However, shopping for gifts for your loved ones,
Read More »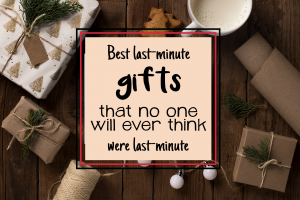 Christmas is just one week away, and if you are like us at thethemeparty.com you probably still need to get this one last gift, or two.
Read More »