Did you ever have to celebrate your child's birthday, not once, but two or three times? For instance, once with the kindergarten's kids, once with close family and friends, once with distanced family?
So the first time you are all in. Thinking about your party theme months in advance, checking multiple cake designers on Instagram, creating a new board on Pinterest for every crazy idea you might use. But when you get to the following birthday bash, let alone the third one, it turns into a completely different story. And we totally get it. The never-ending birthday preparations might get easier from one party to the other, but honestly, how many birthday cakes can you order or make?
Whether you are a worn-out party-planner-mom, or you just like to keep thing as simple, easy but still gorgeous as possible- we are here with the number one hack for your next birthday gig – hot-air balloon birthday cake!
Here at "the theme party" we are huge fans of DIY birthdays. And the most challenging part of a DIY bday is by far – making the birthday cake. No matter how many times we watched that "do-it-yourself unicorn and roses cake" on youtube, it just didn't work for us.
But with this hot air balloon birthday cake hack, we are thrilled to say that we found an entirely easy, simple, DIY, handmade birthday cake that is also cute and pretty and drives the WOW effect! The really great part is you can create an awesome hot-air balloon themed party to go along with the cake!
How to make a hot-air balloon birthday cake?
Easily! All you need is round or half-ball-like cake (for the balloon), a half loaf cake (for the basket), 3 paper straws (for the strings) and lots of sprinkles to design the hot air balloon as you want!
We tried this hot air balloon cake hack twice, one time we used a regular 9" round pan, the second time we used a hemisphere ball cake to add some more volume to the balloon. It turned out great either way so you can use whatever you have on reach. If you chose to make the half ball cake, it is highly recommended to cut the cake in half (horizontally) and add some cream filling to make it less dense.
We used the following chocolate cake recipe that is extremely fond with every kid we have ever met, but you can basically make any pound cake you like or use your favorite cake mix box, just make sure you are making enough batter for both pans.
Also, we topped this chocolate cake with a Ganache, but cream frosting should work just fine.
You will need:
rectangle cake board (or large pan, to assemble the cake on)
9" round cake pan or 8″ hemisphere pan
loaf pan
multiple colors sprinkles
cute paper straws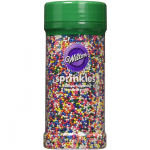 The best Chocolate cake for kids recipe:
CHOCOLATE CAKE:
For one loaf pan and one 9" round pan
6 eggs
375 mL whipping cream
1.5 cups of granulated sugar
1.125 cups of vegetable oil
1.5 cups of self-raising flour
1.5 cups of Chocolate Drink Mix
For one loaf pan and one 8" hemisphere (half ball) pan
8 eggs
500 mL whipping cream
2 cups of granulated sugar
1.5 cups of vegetable oil
2 cups of self-raising flour
2 cups of Chocolate Drink Mix
GANACHE:
1 lb semi-sweet chocolate chips (450 g)
2 cups heavy cream (480 mL)
Preparations:
Preheat oven to 350˚F (180˚C).
Beat eggs and sugar until smooth and foamy.
Add all other ingredients and beat until incorporated.
Pour batter to the pans, fill up to ¾ of the pan.
Bake until set, about 25-30 minutes (10 min longer for the hemisphere pan)
Set aside to cool and meanwhile prepare the ganache
Heat or microwave whipping cream to just before boiling and pour over chocolate chips. Stir continuously until the chocolate is melted and smooth. Let it cool for a bit.
Pour the ganache over the balloon and basket cakes in a circular motion starting from the inside out, making sure to cover all sides.
Assemble the two parts of the hot air balloon cake on a rectangle cake sheet and connect them with 3 straws. Cool completely.
Add sprinkles to create your own hot air balloon pattern (draw your lines with icing pen or a toothpick).
Enjoy!
That easy!
We are confident your hot air balloon cake hack will be even better than ours!
All that is left to do is get some Hot-air balloon decorations and supplies and your kid's birthday party is a go!
Check out everything you need for Hot-air balloon party here.
you might also be interested in: