Life is serious, but we all get the opportunity to goof out and have some good fun once in a while. And one of such opportunities is Halloween. There's hardly anything as fun as dressing up in a great Halloween couple costume with your partner.
Even though Halloween 2020 may look different with most people staying home because of social distancing measures, you can still look fantastic with your partner. And it will be even more fun and hilarious if your joint costume will match your couple type. Ready to give your friends and family a good laugh?
Here are 15 cute couple costume looks for every couple type. Are you a musical duo? Nostalgic partners? Hopefully, you'll find you're best couples costume match here! Also note, most of the costumes have DIY instructions or affiliate links to our favorite costume online store- Halloweencostumes.com.
1. The Fast-Food-Lovers - Mustard And Ketchup
Your first date was in a fast-food restaurant, but also your 10th-anniversary gathering? the bad news is your cholesterol levels might be too high but the good news is you have tones of ideas for couples costumes! the easiest of all is probably the ketchup-mustard costume -you can pull it off with just two branded shirts in red and yellow. or do the full body plus cap matching costumes.
2. The Mysterious Couple - Men In Black
You are hard to get, no one really knows what you do for a living, and you relocate a little too often? Our guess is your regular clothes can make amazing Men in Black Halloween costumes.
All you need for this look are dark suits, dark shades, and shiny shoes. Oh, and you'll need a thin scowl too.
3. The Witty Couple- Green With Envy
for the couple who solves riddle together in their spare time – What's better than a brilliant pun shirt? You can be green with envy with your partner with just two shirts.
All you need for this look is a green shirt and another shirt that says Envy. And with that, you're Green with Envy.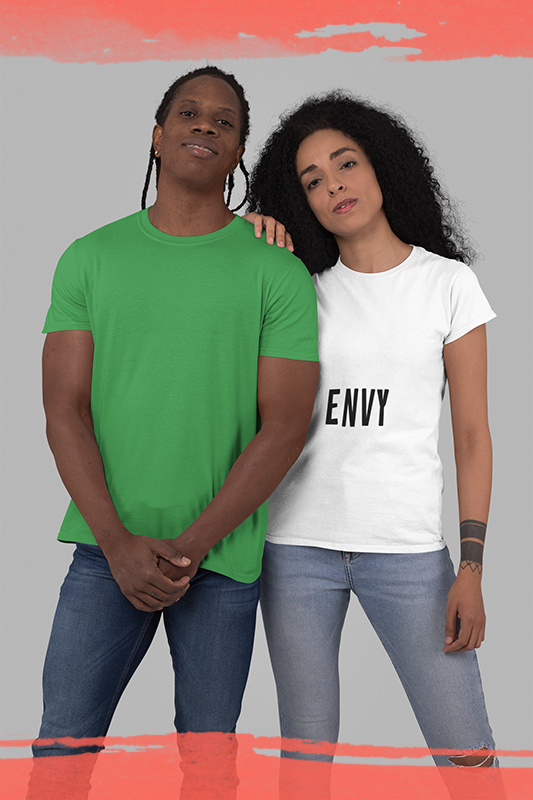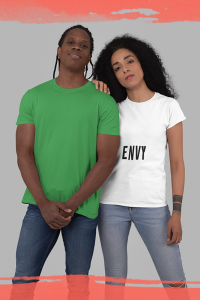 4. The DIY partners -Pencil And Notebook
You are talented from your ears to your toes, you have a garage fill with all the things you'll fix one day, and let's face it – you will never buy a costume!
We would have given you ideas for creating this look, but who are we kidding? You don't need our help.
Still, have no idea what's your 2020 Halloween costume going to be? Click the banner for tones of new ideas!
5. The Forever-Young couple - Peter Pan And His Shadow Costume
You enjoy your kids' bedtime stories better than them, you never miss an opportunity to wear bright colors items, and you look younger and more energetic than most of your friends. you are real-life peter pan's and we are jealous.
The great thing about this costume is that you only need one Peter Pan costume to get it going. Your partner just needs black clothes and a lot of black paint to look like your shadow.
It would be excellent for the shadow also to act and behave like Peter Pan everywhere!
6. The political couple- Donald trump and Kamala Harris/ Joe Biden costume
You probably saw that one coming. We bet you're going to see quite a bit of those costumes in Halloween 2020 since the elections will be right after it. So if you and your partner find yourself in political debates with your friends, if you the first thing you do in the morning is to check the latest polls- well – this one is for you.

To pull off this look, all you need to do is get a blonde trump wig and a short straight black hair wig (or grey one if you're aiming for Biden) and complete the look with fancy suits and a fierce look. You can add an election sign and you are done!
7. The x-gen-millennials couple – Grease costumes
If you were born in the 80s / early '90s, there is no way you haven't seen grease about 3761 times. You know all the songs. You master the choreograph. All that's left is to put on the right outfit and shape up!

All you'll need to rock it like Sandy and Danny this Halloween are black shirts, slacks, and a black jean. If but if you are really aiming for that bare-shoulders shirt and Danny Zuko's dashing hair – you can get a perfect replica here.
8. The Sweet-Home-Alabama couple - Cowgirl And Cowboy
You are cool, you are sharp, you long for the wide-open wilderness, and have a thing for classics – it's a wonderful look that has never been missed. It's incredibly easy to pull off in urban areas as you'll look so out of place— which is what you want from a Halloween costume!

All you'll need to get this show on the road are cowboy boots, lumberjacks, and hats. And oh, don't forget the jeans. Never forget the jeans. You could get a guitar to spice things up. Everyone knows cowboys love their guitars.
9. The Nostalgic Couple - Silent Movie Stars
Silent movies gave birth to the explosion packed spectacles we call movies today— but if you feel you had enough CGI effects for the rest of 2020- you are up for this costume.

To pull this look off, you and your partner need to dress in loose old-timey suits and gowns. Apply lots of baby powder on your faces to get that black and white look, and get two placards to help tell the audience what you are. It's important to stay as mute as possible too! Characters in silent movies don't speak, remember?
10. The funny couple -Mad Scientists
Everyone knows that behind every superhero (or most superheroes), there's a mad scientist somewhere cooking up formulas. they are geeky, they are eccentric, they give the comic relief – are they you and your partner? 
All you'll need for this look are a pair of labcoats, a huge wig, a couple of goggles, and the weirdest shirts and ties you can find. The critical thing about mad scientists is that they always look quite mad.
11. The Enchanted Couple -Magician And Rabbit.
Oh, you know who you are. The couple that manages to work out and have regular dates with each other and develop a hobby. You definitely can do magic, and so you should go for the total magical costume! 
It's easy to put together and would definitely not be too common at a party.
All you need is a rabbit costume (or you could settle for bunny ears) and a sharp but flashy suit for your partner. The magician will need a top hat and a wand too. Get all of that, and you're set to stun. Abracadabra!
12. The Musicians -Johnny Cash And June Carter
The love story of Johnny Cash and June Carter is probably the most iconic in Hollywood. And you can recreate that look with your partner during this Halloween. But if you have to do this, you'll have to do it well.
For the Johnny Cash look, all you'll need is a dark suit, a guitar, and really, really good hair! For June Carter, you'll have to dress in a short chirpy gown and a black wig. No blondes on this look!
13. The Down-to-Earth Couple - The Lumberjack Couple
You are strong. You don't fear hard job. You know relationships aren't always chocolate hearts and rose petals, You've been through a lot and you are still together and better – you are the lumberjack couple!

Jeans, lumberjacks, and light make-up to show how hard at work you've been, are the most critical aspects of this look, and you mustn't fumble them.
14. The Netflix Fans – Stranger Things costumes
15. The Artistic Couple - Bob Ross And His Trees
The joy of painting is probably one of the most heartwarming painting shows ever made. Pay your respects to Bob Ross's memory by dressing yourself and your partner as Ross and his trees.
All you'll need for the Bob Ross costume is a wig, jeans, and regular shirts. Oh, you'll need a paint pallet too. For the tree— well, a couple of leaves around the head will do.
Did you find the Halloween costume that suits you best? We sure hope so cause you'll have immense fun pulling any of these looks off. And as always, you could even add a more creative twist to everything. Happy Halloween!
Are you ready for Halloween 2020?
COVID-19 is a global pandemic that has changed the world and affected how things are usually done. With the strict guidelines and regulations in place,
Read More »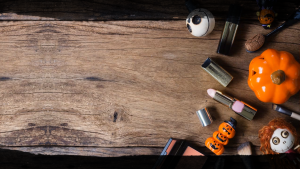 No matter how you look at it, Halloween is fun! We get to see our kids and their friends in those cute costumes, having a
Read More »