Celebrate curly hair with mermaids!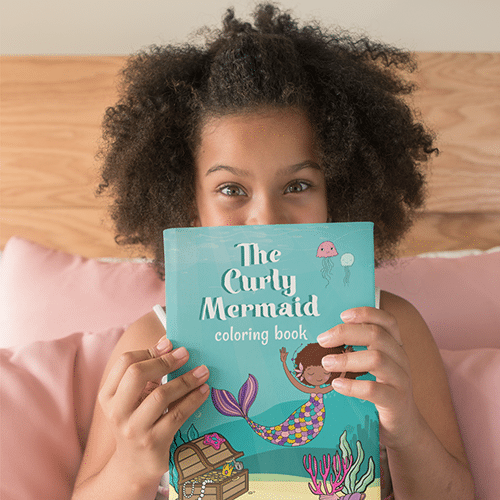 Open your door to the world of coloring with The Curly Mermaid Coloring Book! This coloring book is designed especially for children (and adults) with curly, kinky, or wavy hair. It features beautiful mermaids, under the sea adventures, and nearly 70 pages of fun activities for you to color. Welcome to the curly under the sea family!
Want to start your curly under-the-sea adventure NOW?
Is your child obsessed with mermaids? Are you looking for more ways to inspire your child to embrace her curly hair? These free coloring pages are perfect for you. Check out these amazing free printable coloring pages from "The curly mermaid" coloring book. All you have to do is download the free coloring sheets and watch your child enjoy her creative under-the-sea adventure!
Natural curly hair empowering coloring book
"The curly mermaid" coloring book is the first of its kind for little girls with naturally curly hair. It features beautiful mermaids in all their curly glory and includes a story about the mermaids' curls' secret.
Perfect for mermaids and ocean life fans
Each coloring page displays a fun marine-life scene with mermaids, seaweeds, seashells, and cute aquatic creatures.
Great for a vast range of ages
"The Curly Mermaid" illustrations are simple to color for young children but yet contain fine details that older ones will be challenged by. Guaranteed enjoyment for age four and up!
"As a mom of a daughter with curly hair, I am always looking for ways to inspire her to love her hair. Mermaids are just magical and the illustrations in this coloring book were so beautiful that she just couldn't get enough. It's now her favorite book. And since it has so many different mermaids, she gets to see curly haired girls everywhere. Thanks for creating a coloring book that my little girl can enjoy!"
"I'm obsessed with my new coloring book! As someone who has been self conscious about her curly hair her entire life, I think this coloring book is a great way for girls with curls to embrace their hair and enjoy it instead of trying to fight it."
"Great coloring book for my daughter's curls!"
Inspire girls to embrace their natural hair while mixing colors and playing with crayons!